🎤 10 นักร้องตัวแม่สุดฮอต ที่มีรายได้สูงสุดในเกาหลี 🎫
🎤 10 นักร้องตัวแม่สุดฮอต ที่มีรายได้สูงสุดในเกาหลี ความสวย ความรวยและความเก่งที่เกินต้าน ร้องดี การแสดงเด่นและประเด็นคือขายของกันเก่งมากกกกกก 5555555555 ป้ายยาทีไร เหล่าตัวแม่พร้อมใจกันเสียเงินให้ทุกทีค่ะ!
✔️อ้างอิงและประเมินจากค่าจ้าง, โฆษณา, การลงทุน และความนิยมบนโซเชียลมีเดีย
✔️อ้างอิงข้อมูล >
https://bit.ly/3KoZ1Vd
📍อัปเดต ณ​ วันที่ 8/4/65
Credit : เพจ ตัวแม่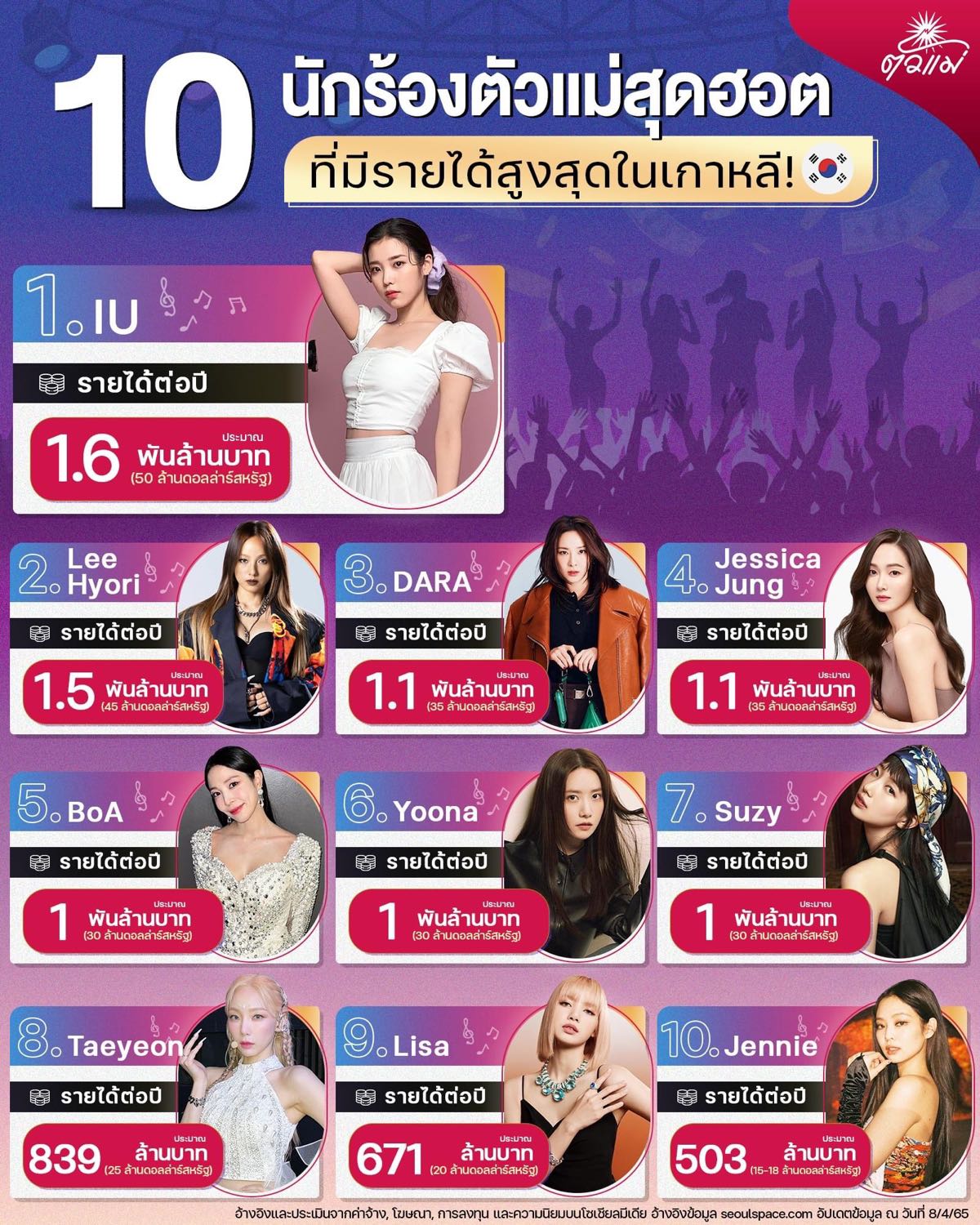 IU (Lee Ji-Eun)
– Richest Kpop Idols (Female)
IU richest Kpop Idol
SOURCE: BRANDINGASIA.COM
IU is considered one of the most popular K-pop stars in Korea and at the top of the richest female Kpop Idols. She debuted at the young age of 15 as a singer-songwriter. IU is known for composing and producing her own songs and has gone on to have great success modeling and acting. She has written more than 50 songs for her albums, South Korean dramas or films, and other musicians. This allows her to continually increase her royalty earnings. Her album Good Day was one of the most successful albums of all time. Recently her track I Give You My Heart from the soundtrack of one of the best Korean dramas of all time Crash Landing on You topped music charts within 3 hours of its release. IU has done over 50 advertisements for companies such as Samsung, Sony Korea, SK Telecom, Le Coq Sportif, S-Oil, Guess, and even Korean soju brand Chamisul. She lives in Caelitus which is one of the top Luxury Apartments in Seoul. She has created the IU scholarship at her former high school and has donated over $88,000 to the Green Umbrella Children's Fund.
IU estimated Net Worth: $50 Million
Lee Hyori
Hyori
SOURCE: PINTEREST
Lee Hyori is a part of the first generation of K-pop stars. She comes in at #7 on our list of the richest Kpop Idols. She started out with a very popular K-pop girl group called Fin.K.L. In 2006, she was the highest-paid female K-pop singer. She made even more money through advertising and endorsements for companies like Samsung and Korean soju brand Chum-Churum. She is married to a very rich producer named Lee Sang-soon in 2013. Together they produced a very popular Korean variety show called Hyori's Bed and Breakfast. It is filmed at Jeju Island at Hyori's property called "Hyori's Homestay." Besides singing Hyori also acted in Korean TV series such as Three Leaf Clover and Korean films such as Dancing Queen.
Lee Hyori estimated Net Worth: $45 Million
DARA (Sandara Park) – Richest Kpop Idols (2NE1)
Dara Richest Kpop Idol
SOURCE: FOREVERWITHDARA.COM
DARA is a singer, actress, and host. She became famous for being a member of one of the top girl groups of all time, 2NE1. After the group disbanded she has been able to have a very successful solo career. She has been able to have a successful acting career in Korean dramas such as One More Happy Ending and Missing Korea. She also was in a Korean movie called Bcuz of You which got her many acting awards. DARA has appeared on many television shows in the Philippines as well. She also hosted a fashion show called Get It Beauty and is considered a fashion icon. She has her own fashion line called "Dara Park Seduction".
DARA has endorsement deals from brands such as Etude House, Clio, Nikon, Mitsubishi, Moonshot, CoverGirl, BNY Jeans, Tekki Asian Classic Noodles, Canon, Cass beer, Head & Shoulders, and Penshoppe just to name a few. Nikon even named a camera after her. It is called Sandara Digicam. Dara went to school in the Philippines. She is a huge star in the Philippines and was nicknamed "BoA of the Philippines" by Kpop fans. She has taken her money and invested it sell in smart stock investments, real estate, and restaurants. DARA has even launched her own brand of Vodka and has a top-selling perfume called "With Love from Dara". She also became YG Entertainment's public relations director. DARA also has a YouTube Channel called Dara TV which has over 1.3 million subscribers.
DARA estimated Net Worth: $35 Million
Jessica Jung
Jessica Jung
SOURCE: FASHIONISTA.COM
Former Girl's Generation member Jessica Jung has become a fashion icon with her brand Blanc & Eclare which has over 60 locations all around the world such as the United States, China, and Hong Kong. She has done on to have a very successful career as an actress. In addition, she was the winner of the Asian Fashion Icon Award and the Hote Trend Artists of Korea Award. Her Instagram showcases her fashion taste. She has done endorsements for Korean makeup, cosmetics, and contact lenses. Back in 2018, she joined the same agency that also represents Benedict Cumberbatch and Mariah Carey. However, in 2020, she has signed with UTA who will represent her in the US market.
Jessica Jung estimated Net Worth: $35 Million
BOA (Kwon Bo-Ah)
Richest Kpop Stars
SOURCE: HELLOKPOP.COM
BOA is a singer, dancer, composer, and actress that is not only famous in Korea but also in Japan. She has been able to sell over 1 million album copies in Japan alone. She speaks Japanese, English, and Korean. Furthermore, she has recorded songs in Mandarin. All this has led to her success all across East Asia. She is considered the "Queen of K-Pop" as she has spent over 20 years in the K-Pop industry. BOA has been a judge/mentor for many music competition shows such as Produce 101 and K-Pop Star. She was also in a Hollywood movie called Make Your Move 3D.
BOA estimated Net Worth: $30 Million
Yoona (Im Yoon-ah)
Lovcat Yoona
SOURCE: PINTEREST
Yoona was a singer for the very famous K-pop girl group SNSD. She has done over 20 commercials for K-Beauty brands such as Innisfree and was the first overseas endorser of Alcon Taiwan. In fact, before she was a singer, she was a model and filmed many commercials. She is the top SNSD member in regards to doing the most number of solo ad shoots. Yoona is the face of Innisfree and has traveled across Asia promoting the brand. Yoona also acts and appeared in a Chinese drama called God of War, Zhao Yun, and got over $2.5 million for the role. In addition, she also starred in many Korean dramas such as Love Rain and The King in Love, just to name a few. Along with Innisfree, she has modeled for Danish jewelry brand Pandora, as well as S-Oil, Crocs, LOVCAT, and Lee Jeans. She was recently spotted in her new Porche.
Yoona estimated Net Worth: $30 Million
Suzy
Carin
SOURCE: ASIANJUNKIE.COM
Coming in at #13 on our list of the richest K-pop Idols is Suzy. Suzy is a former member of K-pop girl ground Miss A. Back in 2013, Suzy made over $9 million in endorsement deals mainly in eyewear and nutritional supplements. However, she has endorsed almost everything such as skincare products, BBQ chicken, kimchi refrigerators, cellphones, pizza, theme parks, and even GPS devices. Because Suzy is both a K-pop singer and an actress, she has the best conditions available as an endorsement model. Suzy starred in a Korean film called Architecture 101 and Korean dramas such as Dream High and Gu Family Book. Therefore, she was one of the most highly sought-after female celebrities in the advertising industry. Suzy owns a couple of floors of a building in Gangnam worth over $3.8 million.
Suzy estimated Net Worth: $30 Million
Taeyeon (Kim Tae Yeon)
Richest Kpop Idols
SOURCE: FANPOP.COM
Taeyeon is a singer, TV personality, and actress. She made a name for herself as a member of SNSD. She has recorded many songs for movies, TV dramas, and commercials. Taeyeon is very active on social media and produces a lot of content for her channels. She has had a very successful solo career. She was the former spokesmodel for Nature Republic and is currently the spokesmodel for Banila Co. Other endorsements include Jeju Samdasoo, Kakao Games, Paris Baguette, Hyundai, and Singha. A few years ago she bought an apartment for her parents that is valued at over $1 million. She has three cars, a Mercedes Benz SLK 55 AMG, Porsche Boxster, and a BMW M4. Furthermore, she has over 15.8 million followers on Instagram.
Taeyeon estimated Net Worth: $25 Million
Lisa (Lalisa Manoban) – Richest K-Pop Idols (Blackpink)
Richest Blackpink Member
SOURCE: PINTEREST
Lisa was born in Bangkok, Thailand. She is a dancer and lead rapper for the K-pop girl group Blackpink. Lisa breaks into the top 30 for the richest K-pop Idols. She comes from a wealthy family as her father is a famous chef in Thailand. What makes her different from the other members is her influence in Thailand. Therefore, she has been able to generate a lot of extra income due to her Thai ads. For example, in 2019 Lisa signed a solo endorsement deal for AIS Thailand which is the largest GSM mobile phone operator in Thailand.
Lisa's endorsement deals are extensive. She is the brand ambassador in China and Thailand for the South Korean cosmetics brand Moonshot. She was also the brand presenter for the Samsung Galaxy S10 in Thailand. Other endorsements include Adidas, D&G Downy, Vivo, Bulgari, and Tencent Games (Brawl Stars). She is also the global brand ambassador for the makeup brand MAC.
Jennie ( Jennie Kim)
Jennie Blackpink
SOURCE: BLACKPINKUPDATE.COM
Jennie is a rapper, singer, and model. She is a member of the K-pop girl group Blackpink.
She has over 59.7 million followers on Instagram.
Jennie estimated Net Worth: $15-18 Million